 Cosmetic consultations Are FREE
Gain Back Your Sexual Confidence
Does your genital image affect your self-confidence, sexual satisfaction and performance? Aging, hormonal changes and many other factors can cause genital issues, both in appearance and function, that interfere with your quality of life. 
Down There Urology offers various cosmetic genital surgery procedures for men and women to help you look better and feel sexier down there. Our board-certified, fellowship-trained urologists in Chicago bring years of experience to determine the genital beautification surgery that's right for you. 
Relax knowing you're in the best hands. 
cosmetic gyncecology and rejuvenation in women
Vulvas come in all shapes and sizes. But if you're unhappy about the look of your vulva, we're here to help.  Our genital beautification surgery procedures are designed to help you achieve the healthy and joyful sex life you deserve.
Labial Puff
Labial puff is an exciting new treatment to restore your labia's youthful appearance and function. Labial fillers volumize the labia majora with FDA-approved hyaluronic acid, a naturally occurring substance that helps hydrate, plump the skin and improve appearance. We use effective injecting techniques to restore your labia's volume and elasticity
Labiaplasty
An oversized labia is a concern for many vulva owners. If wearing tight pants or a bathing suit makes you uncomfortable, labiaplasty may change your life for the better. Labiaplasty (also called labia minora reduction) is a genital procedure that involves trimming the excess tissue from the labia minora. This can be done for functional and/or cosmetic reasons.
G-Spot Amplification
The G-spot amplification is a revolutionary procedure that enhances the sensitivity of the G-spot for more intense orgasms. It involves injecting a small amount of hyaluronic acid filler into the G-spot area, resulting in a larger and more easily stimulated G-spot. The procedure typically takes less than 30 minutes with no downtime.
Cosmetic Genital Enhancement for Men
Does size matter? For some penis owners, it does. And if you're worried about the size, or thickness of your penis, we have the penile enhancement solution for you. Down There Urology provides a healthy, non-judgmental space for those who seek help.
Penile Girth Enhancement
Reclaim your sexual performance and confidence with girth enhancement tailored to you. 
Penis fillers are a safe, non-invasive and virtually painless male enhancement method designed to help restore your confidence level. In addition to penis growth, filler injections enable greater sexual stamina and stronger, longer-lasting erections. Experience a bigger, thicker version of yourself!
Our non-invasive male enhancement procedure is a safe way to enhance your penile look and feel and get consistent results.
feel your best down there AND up here
Restore a more youthful appearance with facial rejuvenation treatments with no downtime. In addition to genital surgery, Down There Urology also offers facial injectables – a fast and easy way to make you look younger and more revitalized.
Facial Dermal Fillers
Looking to plump up wrinkles and smooth out lines on your face? Facial dermal fillers are a cost-effective way to accomplish just that. Dermal fillers are gel-like substances injected into the skin to soften creases, smooth out lines and restore facial contours and lost volume due to aging. This procedure typically takes 15-30 minutes. 
Jeuveau™ Botulinum Toxin
Jeuveau™ is a next-generation botulinum toxin treatment that aims to improve the appearance of wrinkles and fine lines on your face. The treatment process is quick and results can be seen in as little as 3-5 days. Jeuveau™ costs $14 per unit.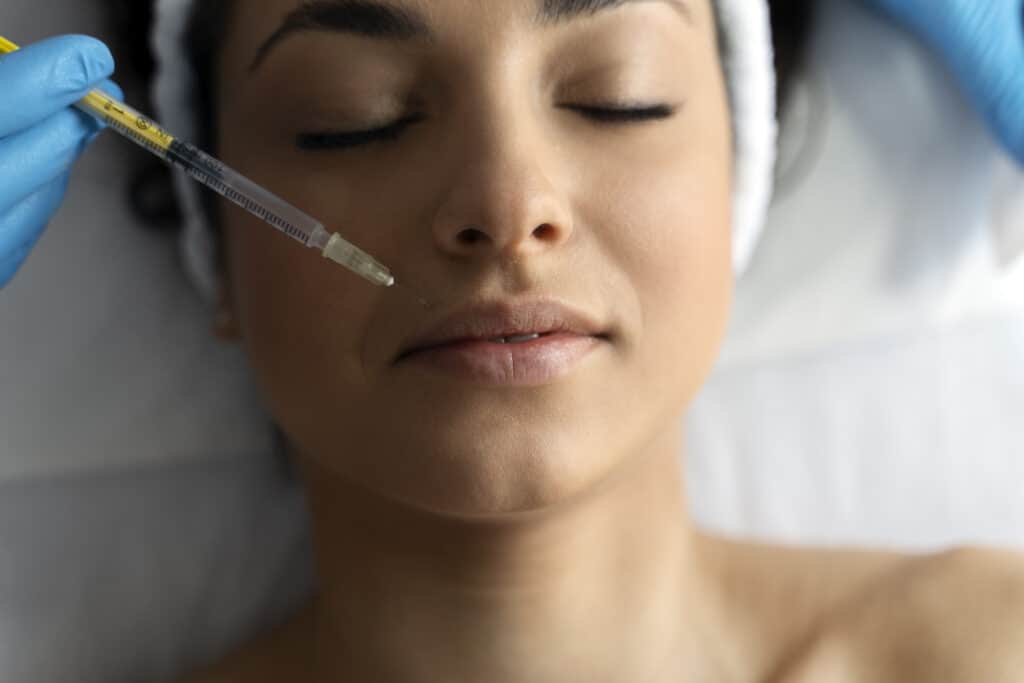 At Down There Urology, we understand how genital image issues can impact your confidence and sex life. Our Chicago Urology clinic is dedicated to making you feel more sexually confident, attractive and healthy. We review your medical history and current health condition to determine if it is safe for you to proceed with genital reconstructive surgery. Schedule a consultation to learn more about our different procedures. 
Financing Options 
We understand that managing the cost of genital surgery and other cosmetic services can be challenging for any individual. That's why we offer flexible payment plans and financing options through Cherry.
Cherry is a hassle-free payment plan that allows you to treat yourself now and pay monthly. 
Applying is quick, easy, and there is NO hard check on your credit.
See our
before & after photos